Safety and Productivity of 1.6 Ton Electric reach truck zowell:
1. Advanced AC control system eliminating motor brushes and directional contactors, which significantly reduces maintenance requirements. Intelligent regenerative brake system increases overall truck performance by decreasing battery charge intervals.
2. Multi-function display: battery state, hour meter, fault code indicator, etc.
3. Built-in pressure relief valve protects the trucks from overload.
4. Emergency power disconnects.
5. Staples speed control.
6. Side battery roll-out system is very convenient for replacement. The battery front cover makes it easy to fill the battery.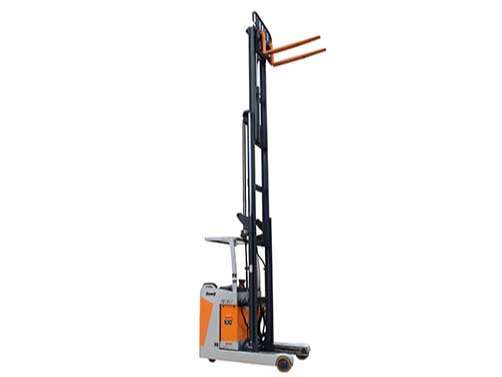 1.6 Ton Electric reach truck height of 3 meters
SPECIFICATION:
Product model:                   FRA16
Power supply:                 Electric
Operating type:              Standing
Load capacity:         Q Kg   1600
Load center distance:        C mm 500
Load distance:         X mm 439
Wheelbase:  Y mm 1480
Wheel:           Tyres              Polyurethane
Tyre size drive end:           mm     Φ310×140
Type size load end:            mm     Φ250×85
Balancing wheel size:        mm     Φ175×75
Height of overhead guard:          h5 mm           2238
Platform height:     h6 mm           319
Overall length:        L1 mm           2332
Length to face of forks:    L3 mm           1261
Length of chasis:     L2 mm           1845
Overall width:         b1 mm           1099
Fork dimensions (Forging) :        s/e/l mm       100/40/1070
Forks width: b3 mm           200-760
Reach length:          L4 mm           590
Min ground clearance:     m mm            83
Aisle width for pallets 1000x1200 lengthways:        Ast mm          2695
Aisle width for pallets 800x1200 lengthways            Ast: mm        2725
Lift speed loaded/unloaded:       mm/s 160/300
Lowering speed loaded/unloaded:       mm/s 320/410
Service brake:                     Electromagnetic
Drive motor rating:           kW      AC 6
Lift motor rating:    kW      10
Battery voltage / nominal capacity:      V/Ah  48/280-400
Structure:
1. Low centre of gravity ensures stable operation. 
2. 45-degree standing and operating position ensures comfortable operation. 
3. The use of articulated drive system renders stable and smooth operation. Vertically mounted drive motor system has a small turning radius and is easy to maintain.
4. The reach forks with hydraulic control make its operation stable. 
5. The stand-on platform is low enough to allow the driver to step on and off without any effort. 
Serviceability:
1. CAN-bus technology reduces wiring complexity and increases the reliability.
2. All pivot points have grease fittings and serviceable bushings, thereby reducing component abrasion degree as well as prolonging component life. 
3. The back cover is easy to open for maintenance and adjustment of parts such as multi-valve, accelerator, controllers, etc.
Havico Company also offers other electric forklifts. See at: Electric Reach Truck
CONTACT US
HOTLINE: 0902 810 638